Many of our intravenous therapies are based on the classic Myers Cocktail Intravenous Infusion which is comprised of:
→ Vitamin C,  Minerals – Magnesium sulphate, Calcium & Vitamin B cocktail comprising of B1, B2, B3, B5, B6, B12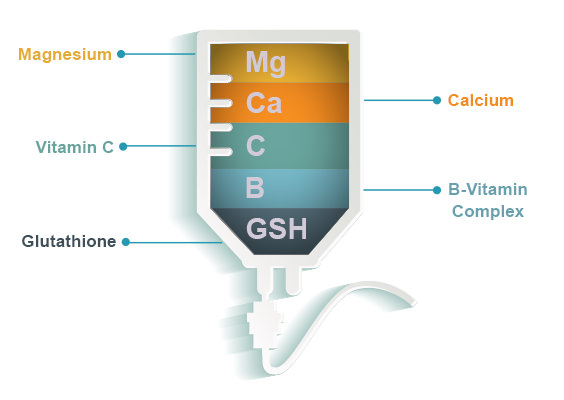 We offer our IV WELL ELIXIR – which is based on the very popular Myers' Cocktail, "tried and trusted" formula – but with several new, fortified formulations on offer – there are many more beneficial and strategic combinations on offer.
We enhance this base formulation where necessary depending on indications and individual needs:
→ Amino acids – Taurine, Carnitine, Acetylcysteine, L-Arginine
→ Vitamin B2, B3, B5, B6, B12
→ Zinc, Calcium, Potassium, Magnesium
→ Phosphatidylcholine (PPC)
→ Alpha Lipoic Acid (ALA)
So, you are wondering what's the value of the individual components of the intravenous therapies?
Amino Acid Infusions: Where do these fit in?
→ People who exercise heavily to aid recovery and accelerate muscle development
→ Binding and neutralising of free radicals with detoxifying functions 
→ Building blocks of immune components and collagen
→ Improving iron utilisation
→ Improving oxygen transfer in the circulation and cellular respiration
→ Reducing allergic responses by reducing histamine release
→ Improves libido and sexual function
→ Helps enhance fertility
In addition, we offer a range of rehydration base solutions – each containing unique electrolyte combinations and options.